RSA (NSW) Course
Locations - Sydney CBD & Dee Why
---
RSA (NSW) course is $180 at Dee Why or Sydney CBD per person.
Classroom session is 6 hours. Certificate valid for 5 years.
Don't wait to book a RSA (NSW) course, call now on 02 9232 1010 or contact our team.
Course Inclusions

RSA

Backpacker
Upgrade $35

Passport
Upgrade $55

NSW Licence
QLD Licence
SA Licence
WA Licence
NT Licence
ACT Licence
TAS Licence
VIC Licence
Australian Wide Coverage
NSW Government Issued Competency Card
Government Approved RTO #91118
Face to Face Learning
Customer Service Assistance
Experienced Qualified Trainers
Statement of Attainment ID Card available same day
Interim Competency Certifcate straight to your inbox
Pre-Enrolment in VIC Online Bridging Course
Short Online VIC Bridging Course (15 minutes)
Great for Travelling workers
Allows you to serve alcohol in licenced venues
Interactive learning environment
Meets AVETMISS Requirements
No Third Party ID verification
No extra paperwork required
Access Statement of Attainment at your leisure
Innovative plastic ID completion card
Work in the Worlds most liveable city
Course Details
The RSA (NSW) course is the certificate all persons must hold if they wish to serve or sell alcohol in any venue or workplace in NSW, including:
Clubs & bars
Nightclubs
Restaurants
Event staff
Drive through bottle shop
Pop up venues
Cruise ships and charter vessels
We offer a fun and informative one day RSA course that will provide you with the knowledge and skills to obtain a NSW RSA certificate, allowing you to apply for your RSA photo card. We run daily courses so it is easy to fit the RSA course into your schedule.
Refresher training is required every 5 years and is only available through Liquor & Gaming NSW.
Our one day RSA (NSW) course will guide you through the topics, provide you with the knowledge and skills to obtain a NSW RSA certificate.
This program is delivered by TCP Training.
---
RSA Certificates in Australia
Australian States each require specific RSA qualifications to work in the Hospitality Industry -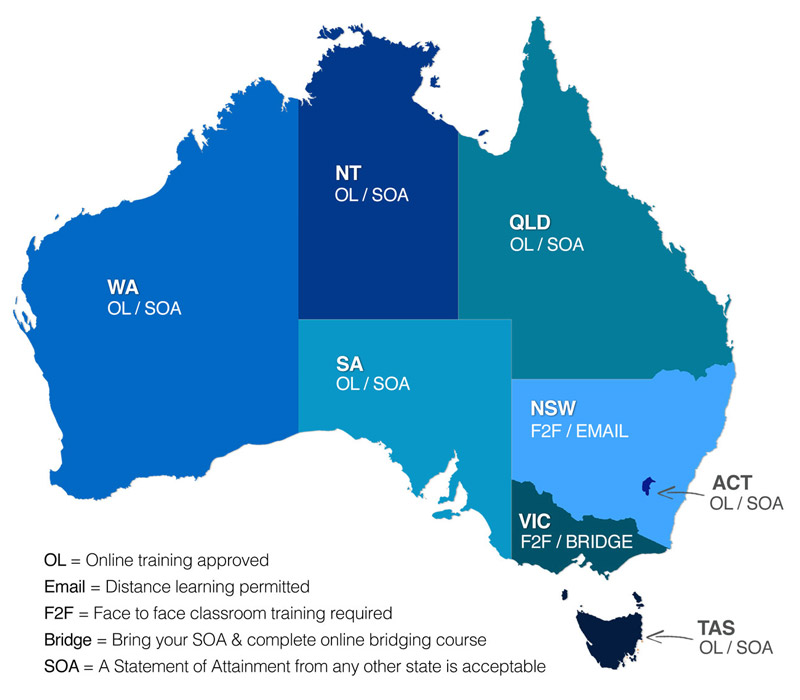 Which RSA Course you should enrol in -
Download the RSA Certificates in Australia -
---
How to enrol
To enrol into this course, follow these simple steps:
Select a date from the course timetable on this page.
Complete your personal details on the enrolment form.
Make payment using credit or debit card.
Receive email with confirmation of booking.
*Note: we do not hold seats for students until payment is made.
---
Assessment
There are assessments in this RSA (NSW) course. To see full RSA course details and assessments, click here.
---
Pre-requisites
Students are required to be able to complete the RSA NSW course assessments in English. The course includes videos, photos, and questioning to assist all learners during the program. If you would like to bring a translator with you or have other learning needs due to your Language, Literacy or Numeracy skills, please contact our office on 02 9232 1010 prior to enrolling into this course.
---
Training Program
During this RSA NSW course, students learn the following topics:
Legislation
ID requirements, minors
Signage requirements
Identifying intoxicated persons
When to refuse service of alcohol
RSA NSW Courses are available most days of the week. See what happens in this program through our Vimeo page
---
Certification
Students who are assessed as competent will be issued a nationally recognised Statement of Attainment for SITHFAB002 Provide responsible service of alcohol. If you plan on working in Victoria, an online bridging course will need to be completed to learn about their state specific legislation.
This course is delivered by TCP Training with certificates issued by TCP Training (RTOID:91118).
Once all tasks and assessments are completed, certificates will be emailed to the student.
In addition to the Statement of Attainment, students will be emailed an interim certificate from Liquor & Gaming NSW. With this certificate, students can work for up to 90 days and within this time apply for their RSA NSW competency card. Students must visit a Service NSW office to apply for the competency card.
---
Course Enrolment
RSA NSW course is $180 at Dee Why or Sydney CBD per person.
RSA course delivered in Sydney & Dee Why for public.
We also provide an RSA RCG Course (combo) at our Sydney CBD or Dee Why training locations.