5 Classic Cocktails all Bar Staff Should Know
Friday, October 18, 2013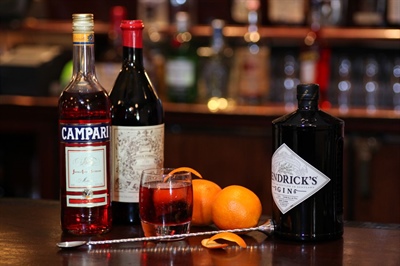 Classic cocktails are something all bar staff should understand, even if they only serve them once in a blue moon. They all have a significant history attached to them, and are designed to highlight the flavours of the spirits they are made with instead of masking them. That tends to make them the drink of choice for the true spirit appreciator.
Martini – The Martini has been made most famous by its past association with James Bond character, but it was the poison of choice of suave jetsetters for long before that. The Martini is almost a single ingredient drink. Made with either 2 shots of vodka or 2 shots of gin, the only other ingredients are the slightest whisper of Vermouth (a fortified white wine) and a garnish of either olive of lemon rind. Typically this super-chilled cocktail is consumed pre or post dinner, but generally one is enough. With two shots of full strength spirit you end up in dangerous territory after one.
Daiquiri – Nowadays when we think of a daiquiri we envision a fruity concoction that has been blended up into a sort of cocktail/dessert hybrid. This is a complete bastardization of this classic drink enjoyed by the savants of the 20thcentury, notably Ernest Hemmingway. A real daiquiri is simply white rum, lime juice and sugar shaken over ice and strained into a martini glass.
Negroni – The Negroni is currently enjoying its status as the fashionable drink of self-appointed connoisseurs. Made with equal parts of gin, Campari and sweet Vermouth, the Negroni is a unique blend of sweet, bitter and strong. Recognizable by its dark red colour, you will always find this classic garnished with a generous portion of orange rind. If the oranges you have available are not particularly fragrant, you can always cheat and add a couple drops of Grand Marnier or Cointreau to nail the important orange and citrus fragrance customers expect from a Negroni.
Margarita – The Margarita is the sacred relic of Tequila lovers across the globe. Made with 100% agave tequila, lime juice and Cointreau, it would be indistinguishable from the daiquiri if not for the signature salt rim. The Margarita is a very versatile cocktail, great for evening parties served in a martini glass or great for a day in the sun served on the rocks. For less seasoned drinkers, do not be afraid to ask for this signature sweetened with sugar syrup, or even better agave syrup.
Old Fashioned – This bourbon based cocktail is definitely a man's cocktail. This classic is built over ice with a couple dashes of bitters, granulated sugar, some orange rind and/or maraschino cherries and 2 shots of bourbon. For a cocktail like this that has no acidic element (similar to the martini), try to use a top shelf bourbon like Makers Mark because the flavours of the spirit have nothing to hide behind.
Learn how to make these 5 Classic Cocktails all Bar Staff should know in our Cocktail Classes at Sydney Bar School.