RSA certification for working holidaymakers
Thursday, March 28, 2019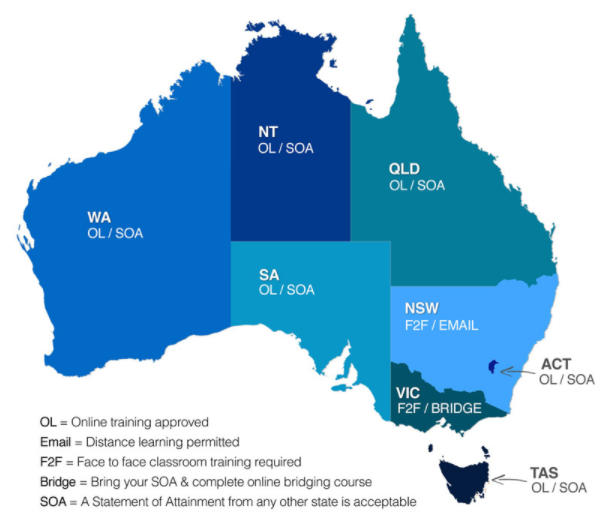 Introduction to Responsible Service of Alcohol
If you are planning to work in a bar or another establishment in Australia where you can buy alcohol, you will need to get your Responsible Service of Alcohol (RSA) certificate. If you are caught working without having your RSA certification, you and your employer will face huge fines.

The Australian mainland is divided in six states; New South Wales (NSW), Queensland (QLD), Western Australia (WA), South Australia (SA), Tasmania (TAS), Victoria (VIC) and two territories; Northern Territory (NT), Australian Capital Territory (ACT) who all have their own rules on liquor and RSA licensing.
To save you researching the difference in legislation per state and what the best way is to go about getting yourself RSA certification that covers for your time in Oz, we have documented it all for you in this blog. So if you are planning to work and travel Australia, and are keen to work in hospitality in (potentially) multiple states / territories, keep reading!


Different types of RSA certifications

The map supplied in this blog will show you the qualifications all respective states and territories require with regards to RSA qualifications. This map can also be seen on the RSA course pages on Sydney Bar School.

There are four different ways of getting your RSA certification;

1. RSA Correspondence - distance learning via email
2. RSA Online Course - online training approved
3. RSA Classroom Course - face to face classroom training
4. Online Bridging Course (Victoria only)

States QLD, WA, SA, TAS and territories ACT & NT allow people to take an online test of the National RSA training meaning you can do an online course, at your own pace, leisure and in your own preferred location.

New South Wales (including Sydney) is the only state that allows people to do their RSA via email correspondence. RSA correspondence suits people who live in remote locations, and are too far from a Registered Training Organisation (RTO) to do the course, or people who cannot make the set classroom course times.

The most popular RSA course in NSW is the standard RSA NSW course which takes place in a classroom. Together with a group of fellow students, you'll spend the day (six hours) with a teacher who will first teach you all the RSA knowledge you need to know to pass the test, then quiz you about it.

What will you learn during the course?

The course is not difficult and a lot of what you will learn feels like it is common sense. However, you will learn about the dangers of alcohol, get taught how to deal with tricky situations, in particular how to deal with (difficult) customers who've had a few too many. The trainer will teach you the best ways to refuse more drinks to intoxicated people while maintaining a great atmosphere in the venue.

What's the best course for people planning to work and travel around Australia?

If you are not sure where in Australia you are going to be working just yet, we recommend doing the RSA NSW course in a classroom. NSW is a large metropolitan area with lots of hospitality jobs available, from Sydney to Byron Bay! Also, it is cheaper than the RSA correspondence course plus it is recognised in all other states except Victoria. And to have your NSW RSA certificate recognised in Victoria, you can simply do a free bridging course online!