Amaretto and Cognac Coffee
Wednesday, June 26, 2013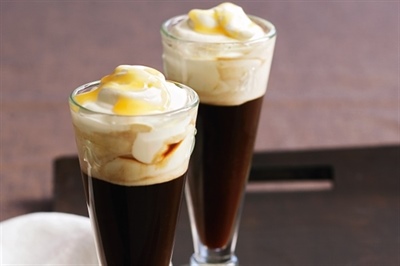 Check out this recipe for Amaretto and Cognac coffee featured in Good Taste magazine! Part coffee, part cocktail, part dessert, this recipe is perfect for winter. This coffee perfectly combines Amaretto, an Italian sweet almond liqueur and Cognac, a type of French Brandy. Topped with whipped cream, this coffee is halfway between a sweet dessert affogato and a strong hearty Irish coffee.
This is how it's made:
15 mls Amaretto

15 mls Cognac

Caramel Sauce

Freshly Brewed Espresso

Whipped Cream

Put the alcoholic ingredients in the bottom of the serving glass. Fill to 2/3 of the cup with coffee. Top with whipped cream and caramel sauce. If you are making a number of these, you can make them even more luxurious by making whipped cream, using 1/3 cup of thickened cream per serve beaten until soft peaks form instead of canned whipped cream.
Serves 1
Sourced from: www.taste.com.au/recipes/20024/amaretto+and+cognac+coffee