Australia's Best Bartender Announced!
Friday, July 18, 2014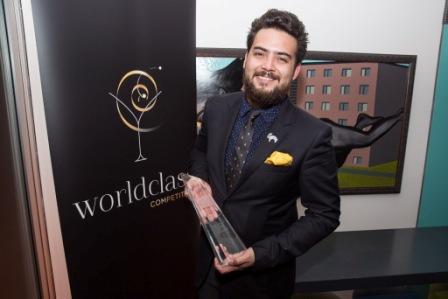 The best bartender in Australia has been announced and wait until you read the prize he wins....
International booze giants Diageo have given their verdict on the best bartender in Australia and he happens to work right here in Sydney!
Charlie Ainsbury, formerly of Eau De Vie now plying his trade at a few bars including Bulletin Place and Ananas Bar in The Rocks, has won the Diageo Reserve World Class bartending competition. Ainsbury fought off stiff competition from a shortlist of the four best bartenders in the country.
Ainsbury wins pretty much the best prize ever. Firstly, he will travel to the United Kingdom at the end of the month to compete in the world final where he will hope to emulate fellow Australian Tim Phillips who was crowned the World Class Bartender of the Year in 2012.
Over 50 other bartenders will make the same journey and be pitted against one another in several invention tests. As a hint of what to expect, to be crowned the Australian champion, Ainsbury had to create a drink to go alongside a dish prepared by Darren Robertson of The Three Blue Ducks in Bronte.
Once the world final is out the way, win or lose, Ainsbury will then head to Scotland to the Johnnie Walker distillery. Here, he will learn more on the art of blending Walker classics before he jets off to Tennessee to the George Dickel distillery and learn about all things maturation.
That's not all! Next he heads further south to Guatemala to get his rum fix at the Ron Zacapa distillery before he heads back to Australia and takes a trip to Bundaberg to blend his own small-batch rum at the world-renowned distillery.
How awesome does that sound?! Jetting around the world, drinking some seriously good booze before coming home and making your own!? Unbelievable!
"I'm incredibly honored and humbled to be selected as this year's winner of Diageo Reserve World Class," Ainsbury said.
"It's been a journey of discovery for me; I've learned new techniques at each step to help me earn this title. I'm looking forward to the Global Finals in Great Britain, competing against the industry's very best to bring the World Class title back to Australia."
Ainsbury beat out 376 of his bartending brethren to win the Australian title and now will face the best in the world from 28th July to 1st August.
Best of luck Charlie!!!