Bar of The Month - Earl's Juke Joint
Wednesday, October 8, 2014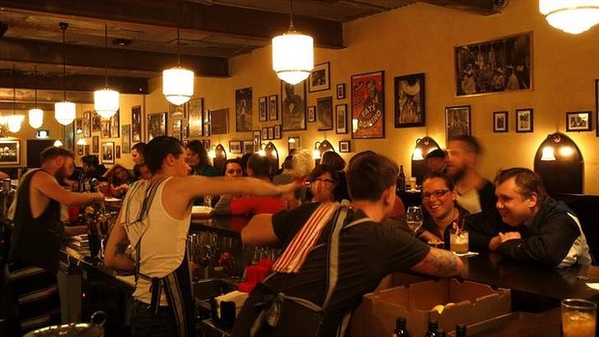 Take a trip to Newtown for one of the best bars in Sydney!
The new month begins and it's Love, Tilly Devine's turn to pass on the veritable banner of Sydney Bar School's Bar of the Month award, this month we head to the Inner West and to a butcher's shop….seriously.
If you take a stroll down King Street, you'll see many sights. Whether it's some hipster trying desperately to look and act differently (but both looking and acting like the guy/girl walking next to them) or a Polynesian church group, it is rarely a dull stroll.
Heading south, you'll walk past an unassuming butcher's shop called Betta Meats. It looks like a traditional, old school, Australian butcher except there's no meat in the window and it also happens to be one of the best bars in Sydney!
Welcome to Earl's Juke Joint.
The term 'small bar' doesn't really fit Earl's as once you find it and head inside, it's actually pretty big! The front end (Betta Meats and all) is quite narrow but the bar spreads backwards and is a great size for a bar. You're never really too crowded or too empty, the space feels just right.
The corrugated roof adds a splash of industrial to the New Orleans theme and the incredibly long bar means you don't have to wait forever to grab a drink, and a good thing too because the drinks are amazing!
The bar staff are friendly and devilishly fast, producing some of the best cocktails in Sydney with an atmosphere to match. A venue from the Swillhouse Group (alumni of Shady Pines, Baxter Inn, Frankie's et al) mean this bar is run to perfection.
There is plenty of seating and standing room and the decor keeps you in that jazz mood (the place is named for a revolutionary New Orleans drummer, Earl Palmer) as the tired traits of Americanisation are kept at bay - it all feels natural at Earl's.
While you're there, take your pick of the amazing cocktails or beer selection or try something a little different and order the Fernet-Branca which they've got on tap. It might taste a bit like medicine or it might be just up your street but it's definitely worth a go.
On the cocktail front, Earl's has a brilliant Pina Colada ($17), and the Phife Dawg (rum, lime, sugar cane, Angostura bitters, $12) is another winner. Isn't it refreshing to find somewhere in Sydney charging under $18 for a cocktail?!
The best thing about Earls, like the Ramblin' Rascal before it, is that it isn't trying too hard. Too often you head to a good bar like Earl's and it is overrun with unneeded extras or is filled with a bunch of plebs. Luckily, Earl's avoids both!
Get the train to Newtown, grab a burger and a beer at Mary's and then head to Earl's Juke Joint. King Street is one of Sydney's best gems and Earl's Juke Joint shines brightest!