Best Bars in Sydney
Wednesday, June 25, 2014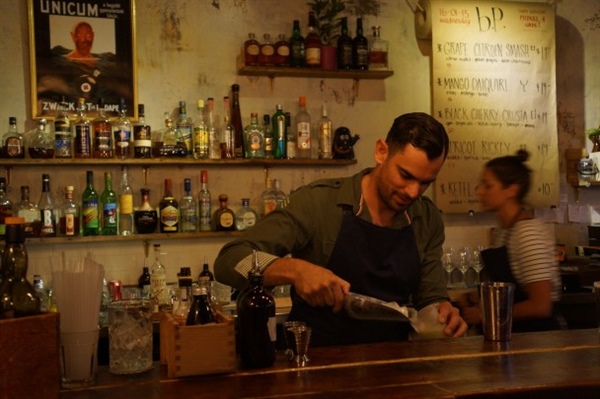 Time Out Magazine has released its list of the top 100 bars in Sydney - here are the top five.
Time Out Magazine, the worldwide bible of cool stuff to do, has released its list of the 100 best bars in Sydney.
The magazine has trawled the bars of Sydney, from the Bondi to Newtown, the CBD to Manly, and has given their verdict. Four of the top five are new entries - with the CBD represented by three bars and Newtown and Potts Point by one each.
The top 100 list definitely gives us a legitimate to do list over the winter months. What better indoor activity is there than trawling the best bars one of the best cities in the world has to offer?!
These are the best bars in Sydney from the good people of Time Out, we will give you our top five bars to visit for the next 12 months later this week too!
Bulletin Place
New to the Sydney bar scene and shooting straight to the top of the list is Bulletin Place - unsurprisingly located in Bulletin Place in Sydney's CBD. A tiny cocktail bar hidden above a coffee shop, Bulletin Place uses fresh fruit as a staple ingredient in practically all of their drinks.
We'd love to be able to give you a specific drink recommendation but that isn't how Bulletin works. Whoever is behind the bar picks the drinks, they have enough to serve a set amount of people and once it's gone, it's gone. It really is first in best dressed.
Each night, the cocktails are written on a big piece of butcher's paper and served away. Like most bars in the CBD Bulletin Place is booming through the week and a little quieter on the weekends but whatever day you go, you're bound to have an awesome time.
Address: Level 1, 10-14 Bulletin Place, Sydney 2000.
Check out their website here.
The Baxter Inn
If you like your whiskey, you'll love Baxter's.
Hundreds of varieties of the stuff grace the wall behind the bar in this cornerstone of Sydney drinking culture. Hidden down an alley off Clarence Street, Baxter's always has a queue so you better get there early!
The Baxter serves a few choice cocktails so don't be afraid to order one but it is all about the malt in this place. A great beer and wine list complements the extensive whiskey selection to cater for everyone!
Address: 156 Clarence Street, Sydney 2000.
Check out their website here.
Earl's Juke Joint
We head to Newtown for an ode to New Orleans at Earl's Juke Joint. From the same people that bring you The Baxter Inn (and about seven other bars in the top 100), Earl's has more of an emphasis on the cocktails than its brother at number two.
Earl's is housed in an old butcher's shop and still has the window to prove it - a giant Betta Meats sign still hangs over the doorway - but inside it is pretty big for a small bar. The corrugated tin roof is reminiscent of an air-raid shelter and the bar is massive, over ten metres long, so you don't have to muscle your way to the front.
As one of the top spots in Sydney, it is a busy place but its size makes it roomy without being vacant. They have a magnificent selection of cocktails, some old (did someone say Pina Colada?) and some new (try the Phife Dawg - a rum, lime and sugar cane juice number named for a member of A Tribe Called Quest), Earl's also features a great selection of global beers and wines.
A stones-throw from the other oddities that make-up the coolness of Kings Street, Earl's is not to be missed on any Newtown adventure.
Address: 407 King Street, Newtown 2042.
Earl's Juke Joint doesn't have a website so be all old fashioned and just head down there!
Lobo Plantation
Who fancies a rum?!
The Lobo Plantation, named for the last sugar baron in Cuba, will have you feeling like Hunter Thompson or Jack Sparrow quicker than you can walk down the elegant staircase at the bars entrance.
The rum selection is vast, culled from all over the Caribbean and a select few from other less tropical climes. If rum isn't your thing, don't fret! Ask the amazing bar staff for a snifter and you may soon change your mind, if not grab one of San Francisco's finest Anchor Steam Ales and idle the night away.
If you do fancy a little dram taste of rum, it'd be rude not to, have a look at the cocktail menu. The Havana Nights is a beautiful blend of rum, passion fruit, lemon and pineapple and rose foam which is as refreshing as it sounds.
Probably the best way to wile away these long, cold winter nights is to head to Lobo and be whisked away to the Caribbean!
Address: 209 Clarence Street, Sydney 2000.
Check out their website here.
Monopole
Rounding out the top five is Monopole, which has a different feel from the other bars on the list. Monopole has a tremendous wine list and offers beautiful food even though it still has a casual atmosphere.
Brought to you by some seasoned veterans of the fine hospitality in Sydney and Melbourne, Monopole feels classy but it is still do-able if you just want to pop in for drinks.
Whereas the others in the top five all represent Sydney's burgeoning small bar scene, Monopole is probably the most original in design and concept. The biggest knock you could give the more themed venues is that they try too hard whereas Monopole feels effortless and chic.
Not a wine fan? Maybe try somewhere else, there is a good selection of interesting ales on tap but you come here for the grape. You can order by the glass for as little as $8 a pop, or move up to a carafe and still keep it at $25. Fancy splashing the cash? They've got serious bottles of wine too - we are talking $400 serious.
Address: 71A Macleay Street, Potts Point 2011.
Check out their website here.
So there you have it, Sydney's top five bars according to Time Out. Do you agree with the list or is your local deserving of a spot at the top? What would your top five be? Check back later in the week to find out some of our suggestions!