Career Profile - Cocktail Waiter or Waitress
Thursday, August 15, 2013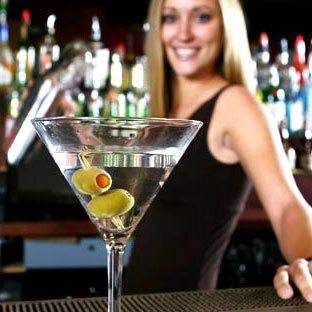 When we think of bar jobs, we naturally think of bartenders pouring beers and mixing cocktails. Especially in Sydney, where we have as many big nightclubs as we do small pubs. There is much more to it than that in many venues around Sydney however!
Big venues with lots of staff tend to divide their labour in a way which opens up lots of positions that we don't normally consider. One of the best examples of these neglected jobs is the role of the cocktail waiter or waitress.
Basically, a cocktail waiter or waitress performs a similar duty to those in a restaurant, but they will work later shifts in large nightclubs. They are responsible for taking drink orders from people sitting down at tables ... they then put in the order, wait for the drinks to be made and deliver them to the table. Many big venues have staff of this nature who are dedicated to cater to large groups on a communal bill or for patrons who have rented out a private area.
This role is especially suited to social people. At a busy bar it can be hard for bartenders to engage in meaningful conversation but table service is a much more personal experience. Being able to talk to patrons, recommend them drinks or food and being friendly is a must.
If you don't have much hospitality experience, this can be a great way to get into the industry. It is an easier job to get than as a bartender when you don't have extensive experience or product knowledge. It will also help you to develop alcohol product knowledge, to suggest selling strategies and customer service skills. In many ways, being a cocktail waiter or waitress gives you more opportunity to develop useful skills that than other positions in the hospitality industry. Knowing how to pour beer will only get you so far, but the ability to sell premium products and put patrons at ease is a skill can benefit almost any career.
Cocktail service should not be ignored when you are considering a hospitality job is because it can be extremely financially rewarding.There are lots of quick transactions for fairly large sums of money. Combine this with alcohol consumption and a happy disposition of customers and there is a significant opportunity to make untaxable tips on top of your hourly wage.
There are many positions for cocktail waiters and waitresses in Sydney, all you need to do is look! To get you started here are a few venues in downtown Sydney that employ cocktail service staff.
The Ivy, The Argyle, Marquee, The Club, Palmer & Co, The Loft, Hemmesphere, Hugos, The Star Casino, The Rook
Become a Cocktail Waiter or Waitress when you complete our Cocktail Classes at Sydney Bar School.