Christmas Cocktail - The Candy Cane Martini
Sunday, December 15, 2013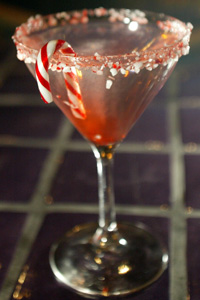 Why did we choose the Candy Cane Martini?
Well, because you can't get more Christmas-y than this! It uses the traditional colours of Christmas and tastes exactly like Candy Canes. Using vanilla vodka as a base spirit, all the flavours are mild and almost everyone should love this concoction. It will easily become a favourite at your Christmas party this year.
Ingredients
30 mls Vanilla Vodka

30 mls White crème de cacao

15 mls Peppermint Schnapps

15 mls cranberry juice

2 crushed up Candy Canes

Method
Crush the candy canes up and put them on a small plate. Take a chilled Martini glass out of the freezer and dip it in the candy cane pieces so that they stick to the rim. (If they are not sticking easily, rub a piece of lime or lemon around the rim of the glass to make it sticky.)
Pour all your ingredients into a boston shaker. Shake with ice and then strain the mixture into the garnished martini glass ... it's as simple as that!
If you want a different variation of this, you could try a Snowball Martini ...
Ingredients
1.5oz White crème de cacao

1oz Peppermint Schnapps

1oz Heavy Cream

Method
It's the same as above pretty much! Garnish your chilled glass with the edible silver flakes. Shake the other ingredients thoroughly with some ice and pour into the glass.
Enjoy!