Cocktail Making Class - Cocktail of the Month
Monday, March 3, 2014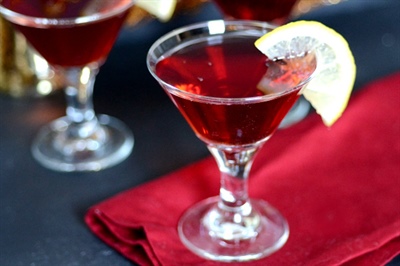 At Sydney Bar School, we love cocktails! And from all the people coming and taking our Cocktail Making Class, it seems that our fellow Sydneysiders do too! So we started thinking, creating a cocktail that tantalises the tastebuds doesn't have to be isolated to those who work in the bars and restaurants ... if you have the ingredients, you can mix up a masterpiece in the comfort of your own home!
That's what our cocktail making classes are all about ... they are here for you to learn how to mix a good cocktail, which flavours will complement each other, which combination of flavours will leave a sour taste in your mouth and how to make them look as good as they taste.
So, if you dream of being the cocktail party hostess with the mostest, why get a group of friends together and join us ... shake your way to happy hour! Or for birthday parties, hen parties or just because it's Friday and you've all worked hard this week, give us a call and we'll help you get your favourite people together for a fun filled evening of mixology.
Until then, we're going to give you a cocktail of the month, every month, to inspire you! And to start us off, we have an Oscar inspired creation that you can try tonight ...
ZERO GRAVITY
Gravity, with Sandra Bullock and George Clooney, has had a whopping 10 nominations for tonight's bash, including Best Picture and Best Actress. If this is your favourite to win, why not toast with a cocktail that will make you feel as light as air ... be careful though, too many and you're sure to feel a bit lightheaded!
YOU WILL NEED:
2 Ounce Absolut vodka
1 Ounce peach liqueur
2 Ounce orange juice
Dash of Grenadine
Dash of Blue Curacao
1 Ounce St. Germaine
A slice of orange
A martini glass
A shaker and strainer
A bar spoon
HOW TO MAKE:
Pour a teaspoon of grenadine into your martini glass.
Put the vodka, pear puree and St. Germaine into an ice-filled shaker.
Shake the mixture and then pour it into the martini glass using a strainer.
Using a barspoon held over the glass, with the rounded bottom facing up, gently pour a small portion of the Blue Curacao over it ... this will make it float on top of the drink.
Garnish with the slice of orange placed on to the rim of the glass.
Serve and enjoy!