Cocktail of the Month - April
Tuesday, April 1, 2014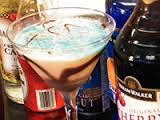 Try our Easter inspired concoction!
It's been a busy month here at Sydney Bar School, lots of people have joined us to learn how to make the perfect coffee and mix the tastiest cocktail! Some came to hone their skills for work and others included us in their special occasion celebrations, but whatever the reason, we all had fun!
As a big thank you to you all, whether you have been on one of our classes in the past, brought your friends or colleagues to a cocktail making party, or you have only just discovered us and are yet to book a course/event, our Cocktail of the Month this month is inspired by the long Easter weekend that's soon coming up ... the kids get Easter eggs, why shouldn't you?
For this delicious cocktail, you will need:
Chocolate sauce
2 oz cream of coconut
1 oz white crème de cacao
1 oz cherry brandy
1 tsp blue curacao
1 tsp grenadine
Maraschino cherry
A chilled martini glass
A shaker and strainer
And how do you make this Easter inspired concoction? It is simple, and will take less than 3 minutes!
Take your chilled martini glass and drip the chocolate sauce around the edges in a swirl pattern. Fill your cocktail shaker with ice and add the cream of coconut, crème de cacao and cherry brandy and shake shake shake senora so that the ingredients mix together then, using the strainer, pour the mixture in to your martini glass.
Next, drizzle the blue curacao and the grenadine on to the top ... this will give you the effect of a speckled egg. Add your maraschino cherry and a bit more chocolate sauce and voila! Your cocktail is complete so all that is left to do now is enjoy!
Why not share pictures of your Easter Egg cocktails on our Facebook profile? We'd love to see how you get on or if there are any variations you come up with!