Five Great Reasons To Work In A Bar
Friday, November 13, 2015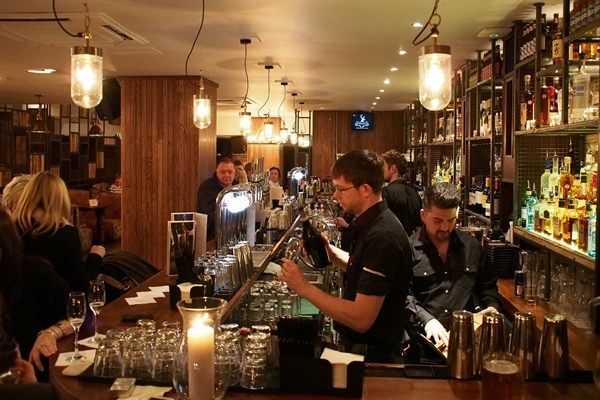 I've been working in bars since a young age, initially not tending to stay very long. 10 years have rolled by and I'm still cracking beers … Probably the best career choice I ever made! You may get sad, tired and frustrated with it but becoming a bartender, and really giving it a chance, will open your eyes and open the door to a lot more opportunities in life. Here's five great reasons to pick up that shaker….…
1. Flexibility - Working in a bar is one of the most flexible jobs out there. I highly recommend working in one if you are a student with day lectures, have children or if you just need some extra income to pay for that nice holiday next year. Bar work usually starts around 5pm till late (late being a vague term for 1am). You can get full-time or part-time, one shift to many shifts.
2. Social life - This reason is why a lot of people come to Sydney Bar School and train to become a bartender, they are tired of their normal job with working 9-5 in an office cubicle never talking to another human being. Your social life will grow, becoming friends with colleagues and customers helping you to become more confident and social. The feeling after your shift is unbeatable, being able to talk and mingle with all sorts of people from different backgrounds. The possibility to travel the world and work as a bartender getting the opportunity to experience other cultures is vast.
3. Money - We all need to pay rent, eat and survive. I get a lot of questions about this aspect of the industry. It's not millions of dollars, but I believe you get paid for what you do. The harder you work the better pay you will receive. The average wage in Sydney being $23 an hour. But remember that a smile and your charming ways can turn in to tips from customers … and those tips can go a long way. Even an extra $100 a week is the same as picking up one small shift.
4. Memory & Organisation - Remembering orders and remembering how to make the cocktails, all while being clean and efficient, is important. Your memory and organisation will be moulded and improved on - within a year, you'll remember all the wines, regions, prices, how to make the cocktails, the pricing of each drink and how to take multiple orders at once. These skills are easily transferred into your everyday life and onto potential careers outside the bar.
5. Networking & Communication - I started out as a shy 17yr old kid. Being a professional bartender has moulded me into a confident, fun and efficient guy, both professionally and personally. There really isn't any other job out there that requires you to be fun and entertaining with complete strangers. The bar industry has opened my mind to all those different people of the world who I get to connect and make friends with. You'll soon have a wide network of people around the city.
Learn more on how to develop these skills in our Professional Bartending Course at Sydney Bar School
Jordan Gross - Trainer and coordinator for Sydney Bar School