Get That Barista Job!
Thursday, May 14, 2015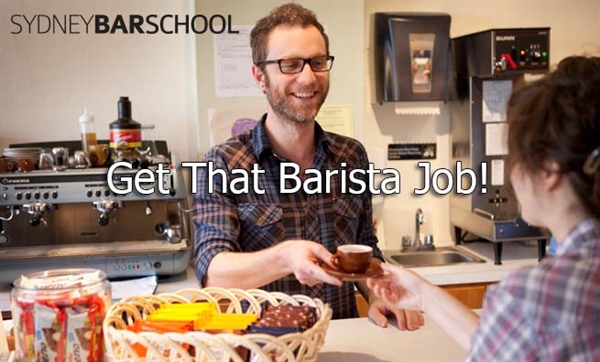 You've done your research and you know that being a skilled Barista opens up numerous opportunities. So you've done a coffee course - Great! That course led to a trial? Even better!
So how do you now get the job and make your frothy mark on the world of coffee? Read on for top tips from our fabulous Barista trainer Mandy:
Be Passionate.
Learn what you can and love what you learn! This knowledge will not only come through in your product, but it will also be noticed and appreciated by your customers who will be drawn in to your 'coffee circle'. The people you will serve … they love their coffee! And if you show that you love their coffee as much as they do, they'll be sure to keep coming back for more.
Have the right attitude.
Aim to be the one person that your customer is happy to see before they have their first coffee of the day … and for every coffee after that! Rub a little of your positivity on them – a smile goes a long way not just for them, but for you too and it will set your day off to the same good start that it gives them!
Be Confident!
There is a reason you went for this job and that's because you believe you can do it! You've had the training (you did the course remember!), now you just need to show what you learnt. And remember that no-one expects you to know everything … if you are unsure of something, ask! It shows a willingness to learn and what employer would not appreciate that?
Get the job - and be successful!
Remembering these things can set you on the right path to becoming a brilliant Barista rather than just a good one! Go for it, put your best foot forward and show your potential employer why they were right to give you a trial and why they should now give you the job.
One of my favourite sayings:
"If you do what you love, you'll never work a day in your life."
Can you imagine being able to apply that to your current working situation? Well, as a Barista, you can!
If you want to train as a Barista and bring joy to the caffeine-loving masses, we have a fantastic coffee school course that is delivered by expert trainers, just like Mandy, in a great location in Sydney CBD. Learn in a custom built environment with professional equipment so you get the best out of your training and can jump straight in to work!