Independence Day Cocktails
Friday, July 4, 2014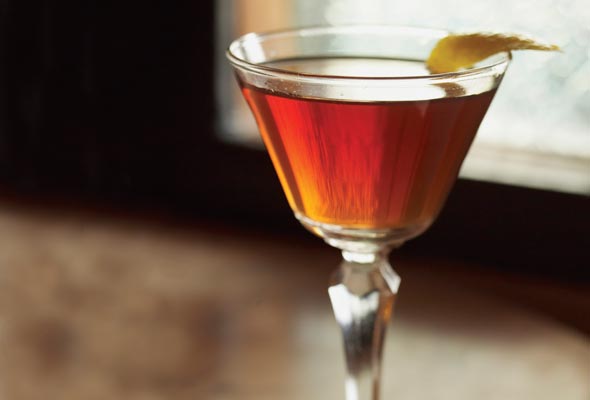 Celebrate all things American with these four cocktails. U-S-A! U-S-A!!
It is July 4th which can only mean one thing - Happy Independence Day all you Americans and American lovers out there!
Let's celebrate all things American! Head to a nice restaurant and talk a little bit too loud! Buy a bum-bag and wear it with pride! Belt out a 'U-S-A! U-S-A!' And learn the words to the Star-Spangled Banner!
Or, drink a heap of American inspired cocktails! Whether you want flavours of the East or West, North or South, America is a cocktail paradise. Hundreds of cocktails could be chosen but in honour of the date we have picked just four to make your Friday night as American as possible!
Manhattan
60ml Rye Whiskey/Canadian Club
30ml Sweet Vermouth
A couple of dashes of Angostura Bitters
Lemon Twist
Bar Spoon
A true classic, making its first bow on the bar scene in the 1870s, the Manhattan is an American pastime.
The Manhattan isn't without controversy though, people add or subtract all kinds with th Manhattan and make their own variations on the classic. We will stick with the classic for today but feel free to experiment!
Rye whiskey is the original and best mix for a true Manhattan but if you can't get it or don't like it, use Canadian Club as it is made with a fair amount of rye. Don't use a bourbon, it isn't a Manhattan no matter how hard you try and convince me.
Pour the rye, vermouth and bitters into a Boston glass. Then you need to crack some ice. Cracked ice gets the drink cooler, quicker so take a cube in your hand and whack it with the bowl of the spoon and add this to the mix. Do this with a few cubs and then add some whole cubes to top it off.
Next you stir the mixture. Use a bar spoon if you have one, if not a chopstick will do! Stir quite vigorously for about 10 seconds. Don't shake a Manhattan as it clouds the drink and makes it look less appealing.
Strain this into your chilled cocktail glass - either a martini glass or a champagne coupe works best - and squeeze over your lemon twist before dropping it in and you've got an American classic.
Lynchburg Lemonade
45ml Jack Daniels
15ml Cointreau
10ml Lemon Juice
10ml Lime Juice
15ml Sugar Syrup
Lemonade - Sprite, 7UP, something like that!
Cocktail Shaker/Strainer
A cool-down classic all the way from Lynchburg, Tennessee - the home of Jack Daniels! this is a great party brew, you can make a massive batch of the stuff and share the love!
A relatively new cocktail on the scene, the Lynchburg Lemonade is refreshing and zesty and has party written all over it!
Add the Jack Daniels, cointreau, lemon and lime juice and sugar syrup to a cocktail shaker filled with ice. Shake the mixture around for about 10 or 15 seconds.
Strain over ice into a collins glass and top up with the lemonade. Garnish with a lemon wedge or maraschino cherry. The measures we've used make a solo drink (or a smaller double) so multiply the ingredients if you want to serve a group!
The Chicago
60ml Brandy or Cognac
Sparkling wine or champagne to top
¼ teaspoon Triple Sec
Dash of Angostura Bitters
Lemon Slice
Caster Sugar
Bar Spoon
A tough drink for a tough city - don't let the sparkling wine fool you, this one packs a punch.
The Chicago is another classic cocktail but this one has fallen on hard-times. While the Manhattan and Old Fashioned have remained in the cultural sphere, The Chicago has been left in the cocktail manuals of old.
No more! The Chicago is one of America's most underrated cocktails (and city's, both are awesome) and gives a cocktail connoisseur something they probably haven't tasted before!
Start by rimming the glass with the sugar. We use a champagne coupe so take the lemon wedge and rub it around the edge before dipping the glass in the sugar.
Next, add the brandy or cognac, Triple Sec and bitters to a Boston glass and top with ice. Like the Manhattan, crack some ice in your hand and top the rest off with full cubes.
Stir the mixture well before straining into the champagne coupe and topping the drink with the sparkling wine or champagne.
Garnish with either a lemon wedge (you should have one handy) or a lemon twist and serve.
Will Rogers
45ml Gin
15ml Dry Vermouth
1 dash Triple sec
1 tblsp Orange juice
Cocktail Shaker/Strainer
Named for one the most famous movie stars of the 1920s and 1930s and one of the original cowboys of Hollywood. Ironically, Rogers was Native American, Cherokee to be precise, so this cocktail can celebrate that little corner of America that hasn't been independent since 1492.
Rogers is a bit of a forgotten legend, he made over 70 movies, travelled the world a few times and even ran for President in 1928 so why not tip a drink for Rogers on Independence Day?!
Chuck all the ingredients into a cocktail shaker filled with ice and give it a solid shaking for about ten seconds.
Strain the mixture into a chilled martini glass and serve. There you have it, a Hollywood icon for the all-American occassion.
Happy Independence Day one and all! What are your favourite American classics? Can't look beyond an Old Fashioned? What about a Gin Rickey or a Mint Julep?
Get your friends or work mates together for an awesome team building Cocktail Making Party at Sydney Bar School.