Spotlight on ... Parmalat Coffee Training
Saturday, July 13, 2013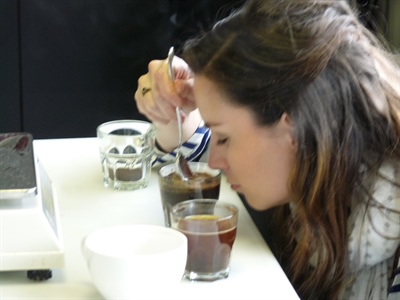 Sydney Bar School onsite training for corporate clients.
At Sydney Bar School we help individuals achieve their training needs that will allow them begin or boost their desired career, but we also work with many corporate clients who have large scale training needs for their employees. Here we would like to spotlight a recent successful training opportunity we had with Parmalat.
Parmalat specialize in the production of branded milk and dairy products, and their continued success and growth has made them one of the leaders in the Australian dairy industry. One of their flagship brands is Paul's milk, a range of milk products that are used in Cafés across Sydney.
Our city is renowned worldwide for its excellent cafes and restaurants. One reason for this is that against all odds Australians have managed to maintain a café culture – an emphasis on quality rather than speed even in amidst the hustle and bustle of the CBD. Coffee drinking in particular is such an integral part of the Australian lifestyle that it fuels the demand for its inputs nationally. The two products that feel the boost from the Australian love of coffee the most are coffee beans and of course, milk.
For the Parmalat employees that are in charge of branding and selling Paul's milk, product application and industry knowledge is crucial. It is not enough to understand what people look for in the supermarket, but it is also important to understand what small business owners look for when sourcing their products.
Robyn Woods from Parmalat explains; "the hospitality industry is very important for our field team to understand, so much occurs on the other side of the counter or in the kitchen and we are not always privy to this." The training organized for the Parmalat employees involved learning the milk texturing process, the language and lingo of a cafe, the key points to making good coffee and learning how the Barista interacts with the machine. Robyn received "overwhelmingly positive feedback" making it clear that her sales reps increased their "knowledge and development for both product application and expectation" as well as "confidence in working with the Back of House market."
In sales, the best way to win and hold the confidence of your buyers is to know your company, your business and your products inside and out. Parmalat have stepped up to accept that challenge with their sales team and will no doubt continue with the strong performance that they are known for.
If you are interested in organising some specialised onsite training that has been tailored to the needs of your business, call us on 02 9232 1010 or make an inquiry about how we can help your employees gain the insider industry knowledge they may need.