Sydney Airport Makes A Staggering Amount of Coffee!
Thursday, August 28, 2014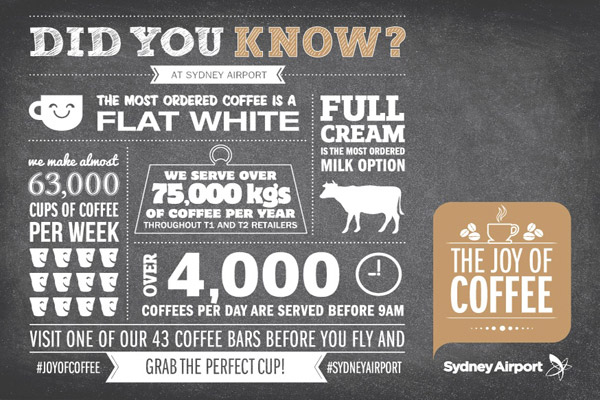 You'll be amazed how much coffee passes through Kingsford Smith!
Sydney Kingsford Smith Airport makes over 63 000 cups of coffee each week.
Imagine what 63 000 cups of coffee looks like! In two weeks, Sydney Airport makes enough coffee to give out to every member of a full-house crowd at Melbourne Cricket Ground - with a few thousand left over.
That's over 250 000 cups of coffee a month, over 3 million a year in total!
To make all these cups of coffee, Sydney Airport needs an awful lot of beans too - some 75 000kgs worth to be precise. To put that into perspective, that's about 11 full grown adult elephants!
Over 4000 cups of coffee are served at Sydney Airport before 9am each day. That is an awful lot of thirsty commuters each day passing through the busiest airport in Australia!
Sydney Airport's general retail manager Glyn Williams said of the statistics: "Our 43 coffee retailers alone across T1 and T2 go through more than 75 000 kilos of coffee each year, so we're confident that we are Australia's busiest coffee precinct and we invite other retail destinations to challenge our claim."
The good, old flat white is the most common order at the airport and it seems that fliers aren't too fussed about the healthier options available as full-cream milk is also the most ordered option.
Williams continued: "At Sydney Airport, we take pride in our ability to provide the best service and great value, high-quality products to our visitors and we're certain there's a place for all our customers to find their perfect cup of coffee every time they visit us."
With all those coffees coming through 43 cafes, Sydney Airport might be a place you've never thought of to look for a job in hospitality but it could offer you the perfect chance to jump into a new career or advance an existing one!

To join in on this rapid coffee-making at Sydney Airport, start your journey in hospitality with a coffee course with Sydney Bar School today!