Sydney Bar School - The Perfect French Martini
Saturday, June 29, 2013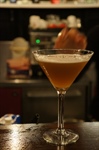 Today we made a twist on the classic French Martini.
When you think of a martini, you think of the harsh taste of almost straight, chilled vodka or gin. The French martini is nothing like this. It is called a "French" martini because one of the three ingredients is Chambord, a French liqueur.
Made from black and red raspberries, vanilla, citrus peel, honey and cognac, Chambord has none of the harsh flavour of a regular martini. It is based on liqueur brewed in the Loire valley in the 17th century. It was said to have been presented to Louis XIV during one of his visits the Chateau de Chambord. During that time is was customary for fancy liqueurs and cognac to be consumed with elegant meals.
Traditionally the ratio is 1-1-1 of the three ingredients, but today our French Martini looked like this...
45ml vodka

15 ml Chambord

45 ml pineapple juice
Shaken hard and strained into a martini glass.