Sydney Bar Week Is Nearly Here!
Thursday, September 25, 2014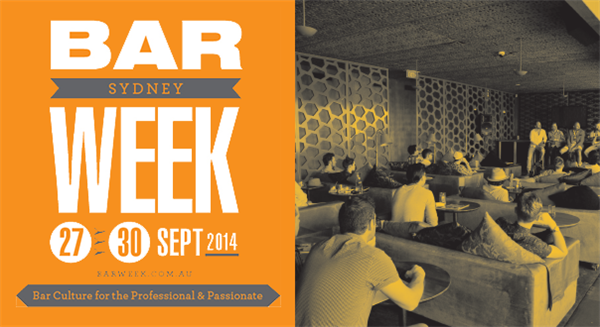 Grab your tickets as soon as you can for one of the best weeks in Sydney.
Take out your calendar, or open up the app on your phone, and set a reminder for September 27th as that's the day that Sydney Bar Week begins!
With a host of amazing events dotted across the city, in some of the finest bars around, and with the 14th annual Australian Bar Awards on the horizon - it'll be a hell of a week!
The party gets started on Saturday 27th September with a celebration of all things gin at one of the coolest bars in the CBD - The Barber Shop. While you're there, treat yourself to a discounted haircut or you can head back anytime through Sydney Bar Week for 50% off a trim!
Once inside The Barber Shop you'll be treated to four gin-based cocktails and some lovely bar snacks. This is one of the hottest tickets in Bar Week so snap yours up as soon as you can - this is a gin lovers paradise!
If gin isn't your favourite tipple, head to either The Roosevelt or Bulletin Place for the next round. If you're in Darlinghurst and stop off at The Roosevelt, you'll be treated to a decadent Perrier Jouet champagne tasting.
The boys and girls of Bulletin Place are taking things a little less seriously. They will be celebrating the awesomeness of the 2000s bar scene. Expect big, shiny drinks with big, bold flavours. The Bulletin Place lot won't simply be recreating some of these oft-forgotten gems - they'll be putting their twist on them too. Definitely one not to be missed.
After you've recovered from your first night hangover, the fun begins again at Lobo Plantation with a rum tiki battle. If you've never been to Lobo - go! It's an amazing little bar with an awesome feel and an interior straight from a Cuban sugar plantation. If you've got a glorious rum cocktail up your sleeve then why not enter!
If you want to stick with the rum, head up to Darlinghurst after you've been to Lobo for another celebration of the tiki cocktail at Hinky Dink's. Hosting a luau party, the crew at Hinky Dink's will ply you with three of their favourite cocktails and some great bar snacks to match!
Rum may not be your tipple of choice so why not head to Parkside Bar for a whisky masterclass. You'll get to learn heaps about the history of whiskey and the differences between different areas of whiskey production….oh, and you'll get to try some too!
To keep the whisky theme going, Eau De Vie are celebrating the small Scottish isle of Islay. The Queen of the Hebrides, as the island is known, is world-famous for its whiskey distilling and smoky, peaty flavours. There are only 3,000 people on Islay and 9 distilleries with more in the pipeline - this is a celebration not to be missed for the whisky connoisseur.
If you're a beer lover, head to Mojo Records for a celebration of all things hop. Mojo Beer Fest will pit ten Australian craft beers against one another for the coveted Golden Record Award. In the democratic spirit, every beer taster will receive a vote so you get the chance to crown a winner!
It's a tough choice to make and to make it even tougher, The Rook will try and make the world's biggest Last Word cocktail! If you love a good gin hit, then this is the place to be! If you're in the hospitality industry, the Idiot Savant prizes that follow the Big Last Word cannot be missed either!
Monday 29th is a little quieter which I'm sure we'll all be grateful for after a weekend of over-indulgence. The highlight of the day has to be the mezcal masterclass at Mr Moustache in Bondi. Mezcal is a mysterious Mexican drop and in this sitting, you'll learn all about it and taste the best of the best.
There is also a look into the world of agave and a couple of industry events, if that takes your fancy.
Tuesday 30th is the closing day of the brilliant bar week. Headlined by the 14th Annual Bar Awards - bars across Australia are in the running for some prestigious gongs across a heap of categories. Oh, and don't forget the after-party at a location yet to be revealed!
Before that, there are five bartender masterclasses that take in topics as diverse as Japanese whisky and American bourbon. Whether you want to learn more about agave, how to advertise your bar or how to find the geekiest brands to stock (and why you should bother) these masterclasses give you great insight into an ever-evolving industry.
Whether you're an industry insider or just someone that loves the inside of a good bar, Sydney Bar Week has it all! Pick where you want to go and get your tickets booked for the best week of the year!
If you'd like to become an industry insider, try taking one of our hospitality courses to help you along the way! We offer cocktail, bar skills, RSA and RCG Courses that can see you jump-start your new career!