The Best Coffee Cocktails!
Thursday, August 14, 2014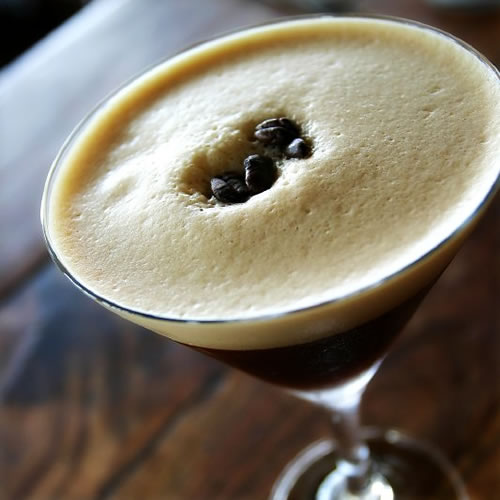 What's better than a lovely coffee or an amazing cocktail.....hang on a minute!
We thought we would combine our two loves here at Sydney Bar School with coffee and cocktails making a heady mix!!
Coffee cocktails are becoming more and more common on cocktail menus the world over and there are many variations to be had using different techniques and spirits.
The vast majority use either cold brew or iced coffee - what's the difference? Iced coffee is coffee made the usual way and then chilled down. Cold brew coffee is brewed using cold water and can take anywhere from 2-24 hours to brew.
Now that we've got the fundamentals out the way, let's get to the fun!
The Coffee Cocktail
25ml Cognac
25ml Port
10ml Sugar Syrup
1 Egg
You'd think with a name like this it'd be packed with caffeine...not exactly the case. The Coffee Cocktail (stressing the The) dates back to 1883 and one of the founding cocktail testaments Jerry Thomas' Bartenders Guide.
This cocktail requires a dry shake which is basically shaking a cocktail without ice. A dry shake helps to emulsify the egg and makes the cocktail smoother. Add all the ingredients to a cocktail shaker with no cie and give them a really good shake. Go for 30 seconds before adding a little bit of ice to the mix and continuing with the shake for another 20 seconds.
This cocktail would take a double strain too, if you are so inclined, so strain the mix into any glass you've got, clean your strainer and then strain the mixture into your serving glass. This is a versatile cocktail but it takes to a wine glass well so strain into there and drink without garnish.
Does it taste like coffee?
Espresso Martini
45ml Vodka
25ml Kahlua
10ml white creme de cacao
10ml cold espresso
Coffee Beans
This is the most famous of the coffee cocktails and is readily available in bars across the country and is incredibly easy to recreate in your own home.
Fill a cocktail shaker with ice and all of the ingredients except the coffee beans and give the mixture a good shake.
As a martini, the glass you'll serve it in speaks for itself so make sure you have chilled martini glasses ready to go. Drop a coffee bean in each one before straining over the bean into the glass.
That's it, you are ready to serve a sophisticated cocktail that has a lovely coffee-note rather than an overpowering taste.
Bronx Bomber
60ml Espresso
4ml (teaspoon) Absinthe
45ml Gin
This isn't as famous as some of the other coffee cocktails out there but it is tasty and packs a coffee punch you won't soon forget.
The coffee paired with the absinthe and gin gives a unique flavour that you'll either love or hate so have an experiment and see what you think!
Using either chilled or cold espresso, add all the ingredients to a cocktail shaker filled with ice and shake well. In an old fashioned glass with a few ice cubes, strain over the mixture and garnish with a couple of coffee beans if you so desire.
Improved Iced Coffee
180ml brewed coffee, cooled
30ml Bourbon
15ml Maraschino
15ml cream
15ml demerara syrup
3 dashes absinthe
3 dashes orange bitters
The increased popularity of cold brew coffee is seeing a rise in coffee-based cocktails and for this Improved Ice Coffee, you can either brew your own or buy a bottle of cold-brew from your local cafe.
To make demerara syrup, add equal parts sugar and water to a small pan, heat and stir until the sugar is dissolved into the water and use what you need for this cocktail and save the rest in your fridge.
Add all of the ingredients to a cocktail shaker filled with ice and shake well for 15-20 seconds. Once shaken, crush some ice with the back of a bar spoon and fill a wine glass with the ice.
Strain the mixture into the chilled, ice-filled glass and garnish with a grating of fresh nutmeg if you feel like it.
There you have it, a smattering of the coffee cocktails you could be making if, like us, you love your coffee and your booze and don't know which to choose!
If you are interested in learning more about coffee or cocktails, checkout our Coffee School or our Cocktail Classes at the Sydney Bar School!