The Best Spring Cocktails!
Wednesday, October 1, 2014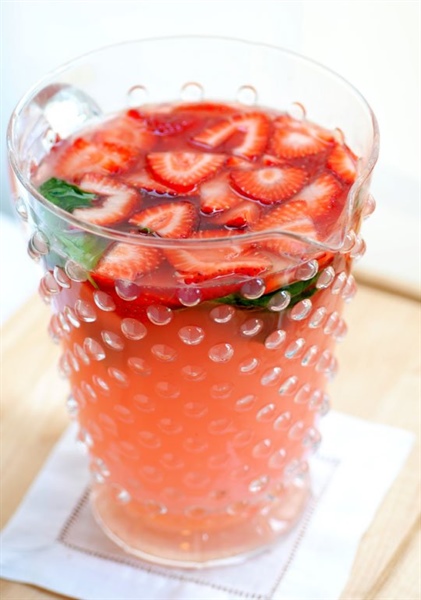 A new season brings new flavours and spring brings on the lovely fresh taste that makes us eager for summer!
Spring has officially sprung and that means we get to sample some cool, refreshing cocktails to match the lovely weather!
With summer around the corner, spring is the perfect time to shift to lighter drinks and away from the darker spirits. You can still take a tipple that packs a punch but these cocktails are aimed at refreshing rather than the winter warmers you will be used to over the past few months.
Without further ado, here are the best cocktails to try this spring!
Strawberry and Basil Margaritas
Handful (about 150g) of fresh strawberries
3 basil leaves
60ml Tequila
15ml Cointreau
15ml Lemon Juice
25g white sugar
Lots of ice
This is a great cocktail to make on a large scale so break out the blender and get ready for a party!
Add everything except the ice to a blender and mix on low until nice and smooth. Then add a fair bit of ice and blend until the ice is crushed which should take about a minute.
Chop some more strawberries and grab a couple of basil leaves if you want to serve this one in a jug and use them as a garnish.
Pour into a couple of margarita glasses and garnish with a sprig of basil if desired.
Green Tea Mojito
30ml White Rum
120ml Chilled Green Tea
1 tablespoon of lime juice
4 mint leaves
2 teaspoons of white sugar
Grab a collins glass and add the sugar, lime juice, and mint leaves and give them a muddle. Before you throw in the mint leaves, place them in your hand and clap - you look like a bit of idiot but it wakes up the minty flavours! To muddle, combine the ingredients until the mint leaves look a bit bruised and wilted - again this adds to the flavour.
Once thoroughly muddled, add a handful of ice until the glass is about ¾ full and then pour in the white rum and pre-chilled green tea. Give the mixture a stir with a bar spoon and that's your lot!
To make a bigger batch, multiply the ingredients by the number of people looking for a drink!
Bee's Knees
60ml gin
20ml honey syrup
15ml lemon juice
A gin classic that uses a little natural hit of sugar and sour to cool you down on a warm spring day.
To make honey syrup (or any other kind of syrup) make sure you read our guide here. Simply combine the same amount of honey and water in a warm pan over the heat and stir until the honey has dissolved.
If you just add straight honey to the mixture, it is a pain to measure out and a pain to clean once you're done!
Add all the ingredients into a cocktail shaker filled with ice and shake for about 30 seconds, until the ingredients are fully combined.
Strain into a chilled martini glass or champagne coupe and add a twist of lemon to garnish.
The Dandy Lion
3 thin slices of peeled cucumber (plus another one for garnish)
15ml Absinthe
60ml Gin
20ml lemon juice
20ml simple syrup
chilled Tonic Water to fill
It's tough to find a more refreshing cocktail than one that involves cucumber! The fresh and cool kick of the cucumber here helps balance out the absinthe to make a perfect afternoon tipple.
Add 3 slices of cucumber to a cocktail shaker and mash it up a little bit to get the most juice and flavour you can. Add the absinthe and then leave for about a minute so the spirit can soak into the cucumber.
Add the gin, lemon juice (fresh if possible) and simple syrup to the shaker and top up with ice. Bang on the lid and give a good shake - go for a little longer just to make sure the cucumber gets as mushy as possible!
Strain into a collins glass filled with ice and top up with chilled tonic water and finish with a garnish of cucumber. Prepare to cool down!
If you'd like to learn more about cocktail making, make sure you check out the cocktail making class or our bartending course! You could impress your mates or take the next step in your career!