Who Fancies A Bacon Cocktail?
Thursday, September 4, 2014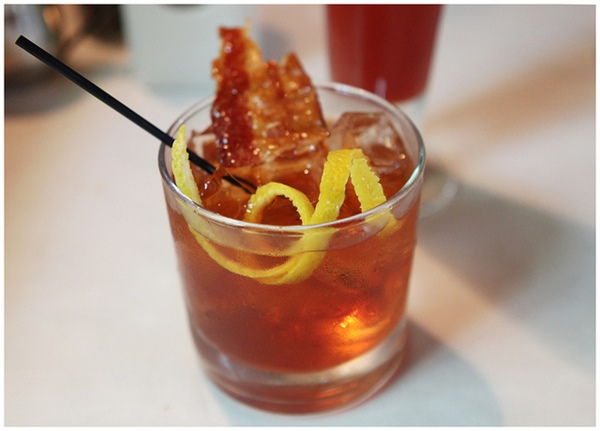 Don't wait until the hangover to get your bacon fix, start with a bacon cocktail and you can't go wrong!
You read that right.
With the advent of the cocktail scene in both Sydney and Melbourne, Australian bartenders are experimenting with all kinds of new and exciting flavours and bacon is just one of them!
When you pick up a menu at the newest small bar you head into, you'll probably be greeted by a list of drinks you've never heard of using booze you've got no clue about! This is no bad thing, cocktail making is all about experimentation and these brave mixologists are at the forefront of the battle for Australia's taste buds!
Nowhere is this more evident than recently opened Eau-De-Vie Apothecary in Darlinghurst, Sydney. The Apothecary seems to have more in common with the science lab than a cocktail bar but the drinks they make are exquisite!
The EDV lot are no strangers to creating crazed concoctions. Ever since they opened their doors in Sydney they have been pushing cocktail boundaries with duck fat infused drinks and roasted red peppers in punch.
Now, they have taken their drink skills to a whole new level with the Smoked Bacon Bourbon produced by EDV owner Sven Roger Almenning's newest venture The Experimental Spirits Company.
Some would lambast bacon-infused drinks as another step in the Americanisation of Australian bar culture or as another drinking gimmick, alongside liquid nitrogen, that will soon die out.
It seems though, that more savory drinks are here to stay. Bacon-infused beverages offer a unique taste rather than just style points. The taste of the bacon is there but it is underlying rather than overpowering and adds another dimension to a cocktail.
Bacon bourbon is the most common option available for your meaty, cocktail fix and it can be created in your own home!
To make your own bacon bourbon is pretty easy but it may not work the first time. Experimentation is the key and your first bacon-filled sips can be a bit strange! Make a mixture and see how you go, there are a few awesome cocktails that can be made with the bacon-infused bourbon once it has been infused.
Bacon Bourbon
¾ Slices of bacon (enough to render about 30ml of fat)
750ml Bourbon
Non-Porous container
Slotted spoon
Cook the bacon and pour off 30ml of fat into a container and allow to cool. An optional step, eat the bacon!
Pour the bourbon into the non-porous container and strain the fat into the same container. Allow to infuse for 4 to 6 hours at room temperature and then place into the freezer.
Leave the mix in the freezer until the fat has solidified and remove the fat with a slotted spoon before straining the bourbon back into the bottle to be used for your own cocktails!
This could be a case of not wanting to see how something tasty is made but it is one way of taking your home cocktail making to the next level!
Once you've got your bacon infused bourbon, give it a taste! Here is a bacon infused Old Fashioned recipe to start your journey into the world of meaty cocktails!
Bacon Old Fashioned
60ml Bacon Infused Bourbon
10ml Maple Syrup
Dash of Angostura Bitters
Orange Twist
Add the bourbon, maple syrup and bitters to a mixing glass filled with ice and stir well with a bar spoon.
Strain into a chilled old fashioned glass filled with ice and garnish with a twist of orange or a little slither of bacon if you've got any left!
Your bacon infused future awaits!
Want to learn more about cocktails and how to make them? Check out or cocktail making course and book today!