Winter Cocktails to Warm the Soul!
Wednesday, July 30, 2014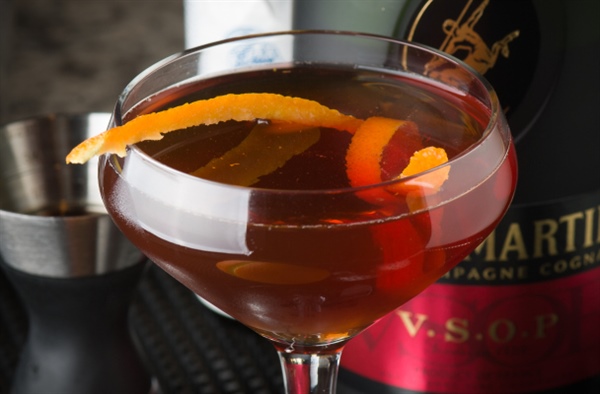 It might not get far below zero but it still feels cold enough to drink these winter drinks!
The weather is closing in and temperatures are dropping. While Winter may not last for that long in Australia, or be particularly harsh, you still feel the cold.
What better way to stave off the winter chill than with a heap of winter-themed cocktails?! Some use warm ingredients to keep the chill away while others use a big drop of booze that does the trick too!
Of course, if you fancy something straight-up you can grab yourself a nice brandy or whiskey and sit yourself in front of a fireplace with your smoking jacket...or on your couch, under a blanket watching whatever replaces Masterchef on TV - it's entirely up to you.
Don't fret though, dear readers - the weather will improve in no time! Head north and enjoy some sun in Queensland or Northern Territory and remember, it could be much worse!
Harvard
45ml of Cognac
30ml Italian Vermouth
Dash of Angostura Bitters
Sparkling Water
This is an easy drink to make but might be a difficult one to drink depending on your taste. First things first you need to crack some ice so take a few cubes, put them in a tea towel and hold them in your hand while you whack them with the other side of a spoon.
Add the cracked ice and a few whole cubes into a cocktail shaker or mixing glass and add all the Cognac, Vermouth and Bitters. Strain the mixture into a martini glass and top up with sparkling water. Add a twist of orange if you need a garnish.
It may seem a little strange to add sparkling water to a martini glass but the bubbles really liven up the cocktail but don't worry, the cognac will keep you warm!
Tom And Jerry
12 egg(s)
1 cup sugar
1 bottle Brandy
Pinch of ground allspice
Pinch of ground cinnamon
Pinch of ground cloves
1 bottle Dark Rum
Milk
Nutmeg
This one is difficult, so don't say we didn't warn you!
This recipe makes a big old batch of cocktails that will be perfect for your Christmas in July (or August) party. It has all the hallmarks of eggnog and it isn't named for a cartoon cat and mouse - the name comes from the inventor, a man by the name of Jerry Thomas.
This one is kind of like baking a cake so follow the instructions carefully and you should be fine!
Separate the eggs and beat the whites until they form a froth. Add the sugar to the yolks and beat these too before combining both mixtures and slowly adding 120ml of brandy while gently stirring.
Add the pinches of spices and continue to gently stir the mixture. Add a tablespoon of this batter to the bottom of a mug or Irish coffee glass and add 30ml of brandy and rum while gently stirring to avoid curdling.
Fill to the top with warm milk and stir until a foam forms on the top of the mug before grating over a little nutmeg.
Practice makes perfect with this one so it is probably best to start with one egg and less of the booze before you get your confidence up!
Hot Buttered Rum
60ml Dark Rum
2 Sugar Cubes
Hot Water
Knob of Butter
For the sake of brevity, I've left out the optional spices you can add to this mixture but the ones in the Tom & Jerry above all go pretty well. This is another simple winter warm-up that could sooth a sore throat but won't taste like medicine!
Dissolve the sugar in a splash of hot water in an Irish coffee glass or whatever glass you are going to use to serve. Once dissolved, add the rum and butter and give a little swill before you top up with the rest of the hot water and gently stir.
Add whatever spices you think will make sense! Vanilla works nicely as does a little grated nutmeg over the top of the finished drink. This is just as good left alone though so have a little experiment and see how you go!
Winter Julep
Peppermint tea bag
Hot water
20ml Brown Sugar Syrup
45ml Bourbon
A winter twist on a summer classic, the Winter Julep will warm you up on these cold winter nights.
Peppermint tea replaces the mint leaves of the summer version and makes for an interesting cocktail clash that is easy to make at home. This cocktail requires brown sugar syrup which is really easy to make. Add equal parts water and sugar to a heated pan and stir around until the sugar has dissolved. Make as much as you like and bang it in the fridge - it'll keep forever! (May not actually keep forever).
First, brew the kettle! Take the glass of your choice, something with a big bowl like a wine glass or brandy snifter, and pour some of the hot water in there to heat the glass. Swill it around while you make about 150ml of peppermint tea in a mug.
If you've got the loose-leaf equipment go for that but a tea bag will work just as well. Once brewed, pour out the warming water of the wine glass and pour in the peppermint tea without the tea bag. Add the bourbon and sugar syrup and lightly stir to combine.
You can garnish with a really small sprig of mint or just drink it straight up. Sounds like the perfect way to clear a cold to us!
Brain-Duster
30ml rye whisky
30ml absinthe
30ml Italian vermouth
Dash Angostura bitters
This one packs a real punch - anything with a bit of absinthe always does though! First, you've got to crack some ice using the method mentioned above.
Then, put all the ingredients in a cocktail shaker or large mixing glass along with a fair bit of cracked ice and some whole cubes. Stir the mixture well before straining into a martini glass.
This might not use any sort of warm ingredient but, trust us, the whiskey and absinthe will warm your cockles no end - this definitely isn't for the faint-hearted!
What are your favourite cocktails to chase away the winter blues? Let us know on Facebook or in the comments section below!