World Cup Cocktails: Angelo Azzurro
Friday, June 20, 2014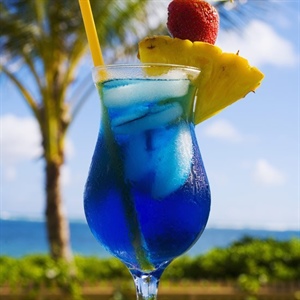 Italy kick start our weekend of football action so celebrate with an Angelo Azzurro!
We will stay in Europe for our World Cup cocktail today and head to the beautiful boot of Italy.

After beating England in the first group game, the Azzurri will play Costa Rica in a top of the table clash that no-one predicted.
Italy are led by midfielder Andrea Pirlo, probably the foremost man-crush at the World Cup. Pirlo dictates play, picks his passes better than anyone in world football and has the best beard mankind has ever seen.
We imagine Pirlo only drinks the finest wines from the best years history has to offer and we know we will never be able to impress him with one of our cocktails but we will try our best.
In honour of the resplendent blue of the Italian kit, we present the Angelo Azzurro or the Blue Angel.
What You'll Need:
30ml Cointreau
30 ml Gin
60ml Blue Curacao
15ml sweet Italian Vermouth
Ice Cubes
Lemon
Cocktail shaker/strainer
Serve It In:
It is a versatile tipple the Angelo Azzurro, it can be served in a old fashioned, a collins or a martini. Take your pick and fill it with ice!
Serve It With:
A Youtube montage of the best bits of Pirlo's illustrious career and a platter of prosciutto.
How to Make It:
The usual - we need to cool our glass so get it filled with ice or in the fridge/freezer. Next we will get the lemon out of the way. In truth, you could use a lime if you've got one lying around rather than a lemon, we only need a small wedge to act as a garnish for the cocktail, so take a chunk out and leave it to one side.
Get your shaker and pour in the gin, Cointreau, blue curacao and Italian vermouth. Fill the shaker with ice, bang on the lid and shake for 5-6 seconds. Now, get the glass out of the fridge/freezer or empty out the ice and add fresh cubes - you only need a couple of cubes for the cocktail and it should be full of ice when cooling down.
Strain the azzurro mixture into the glass, give the lime or lemon a quick squeeze over the top and pop it on top of the ice and you've got a Blue Angel!
Learn how to make all the best Cocktails in our Professional Bartender Course.