World Cup Cocktails: Angry German
Thursday, June 26, 2014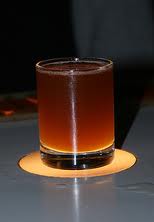 The German machine rolls on against the USA in the final batch of group games in Brazil - drink some of this to celebrate!
The ever efficient Germans take on the plucky Americans on the final day of group games of the 2014 World Cup.
So far, it has been an incredible tournament and the final day of group matches looks set to include yet more drama and many more goals.
The Germans started the tournament as one of the strongest teams in Brazil. They beat Portugal 4-1 in their opening game and then were pegged back with a 2-2 draw against Ghana. America need something from the game to advance alongside Germany from the group.
If Germany lose heavily, they too could miss out on qualification to the knock-out stages of the tournament. A serious game deserves a serious drink so we present - the Angry German.
What You'll Need:
30ml of Amaretto
30ml Blackberry Schnapps
30ml Jägermeister
60ml Lime Juice
Dash of salt
Cocktail shaker and stainer
Serve It In:
This one is serious...this is a shot! The above amounts make anywhere from three to six shots so don't drink them all on your own - share the love!
Serve It With:
The traditional way to drink an Angry German is to shout your favourite swear word, clink the glasses and throw it down. Once the sweet nectar is on its way, you have to try your best not to make the face of an angry German - which is harder than it sounds.
Keep the food German think so good old fashioned sausages!
How To Make It:
Fill your cocktail shaker with ice and add the Amaretto, Schnapps, Jägermeister, lime juice and salt to the mixer and bang on the lid. Give the mixture a good shake and lay out the shot glasses.
This is a mixture for a few shots so if you only want to make a couple, half the amounts for everything and repeat the process. Once you've given the mixture a good shake, strain the mix into the shot glasses and pass them around. Sit back and watch the action unfold
Prost!