World Cup Cocktails: Argentine Pomelo
Saturday, June 21, 2014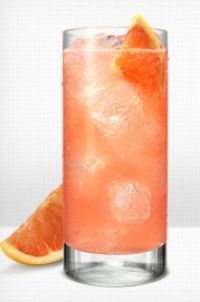 One of the tournament favourites takes to the field today with Argentina playing Iran. Time for some Argentine Pomelo's!
Let's get Messi!
One of the best players in the history of football takes to the Brazil stage today following on from his phenomenal goal in the first game, Lionel Messi and Argentina take on the mighty Iran in Belo Horizonte.
Argentina are one of the championship favourites, if Messi can reproduce his club form at the national level, and they should put a fair few goals past Iran. La Albiceleste, The White and Blue Sky, are an attacking powerhouse with Sergio Aguero, Angel di Maria and Gonzalo Higuain ploughing forward alongside Messi so expect lots of goals in this one.
The national cocktail of Argentina is normally a simple affair, fernet and coke, but that is too easy for the Sydney Bar School mixologists! If you've never heard of fernet before, it is like a bitter version of Jagermeister and tastes a bit like medicine. Italians drink it straight but the Argentines take a shot in a glass of coke which helps mellow the flavour a little.
We will still keep it simple but our cocktail for Argentine is the Argentine Pomelo. It is mixed in the glass, so no need for the shaker, and has a small list of easily accessible ingredients.
What You'll Need:
40ml Vodka
90 ml grapefruit juice (red or pink)
45 ml soda water
Ice cubes
Grapefruit slice
Serve It In:
A highball glass.
Serve It With:
This is Argentina so get the biggest slab of beef you can find! It is quite a light, tangy drop thanks to the grapefruit so you might want to take some sweetness to cut through the bitterness of the grapefruit.
How To Make:
Fill your highball glass with ice and add the vodka and grapefruit juice. Slowly pour in the soda water and stir with a straw or spoon.
Cut the slice of grapefruit in two and slide them down the inside of the glass and stir.
Much like Messi, you've changed the game in a minute! A tasty cocktail without any hassle, if you are an Argentina fan you'll need to make a fair few for celebration libations!