World Cup Cocktails: Old Fashioned
Monday, June 16, 2014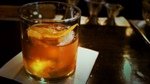 As the USA begin their campaign we hand over the recipe for the granddaddy of cocktails: the Old Fashioned!
The Star-Spangled Banner will fly aloft on Tuesday morning as the good, old US of A makes their World Cup bow against Ghana.
It is a fixture with some recent history as the Black Stars knocked the US out of the last World Cup in South Africa, so expect a good game even if it features the two sides likely to miss out on qualification from Group G (Germany and Portugal are favourites).
It is the third World Cup in a row that Ghana and the United States will face each other, Ghana having won the previous encounters.
We love an underdog so we are backing the USA in the 8am clash. What quintessential American cocktail is to be supped? It has to be the favourite of Don Draper: the Old Fashioned.
What You'll Need:
30ml Bourbon or Rye Whiskey
Angostura Bitters
1 Sugar Cube (or ½ teaspoon of white sugar)
A splash of water
Ice
Maraschino Cherry
Slice of Orange
Toothpick (If you want to be cool)
Serve It In:
An old fashioned glass...obv.
Serve It With:
An Old Fashioned goes well with fatty foods. Pick your manly favourite and go from there.
How To Make It:
Put the sugar cube into the bottom of the glass and melt with a couple of drops of Bitters. Give it a couple of seconds to sink in then add a splash of water and swill the mix around the glass, coating the sides.
Get your muddle on to dissolve all of the sugar in the mix before adding a couple of ice cubes. Pour in the Bourbon or Rye and then it is time for a history lesson.
An Old Fashioned, Old Fashioned is served simply. The original cocktail was served without garnish but as Prohibition swept across America, bartenders started adding fruit to the mix to hide the smell of alcohol.
The classic garnish is a twist of orange or lemon peel. Take your citrus of choice and slide a sharp knife just under the skin. Peel back a small section of skin and twist it before dropping in the glass.
Alternatively, you can cut a slice of orange and add that to your drink. If you want to look fancy, take a maraschino cherry, throw a toothpick through it and lay it across the mouth of the glass.
Whatever you decide, this is a cocktail for the ages!