World Cup Cocktails: The Pavlova.
Wednesday, June 18, 2014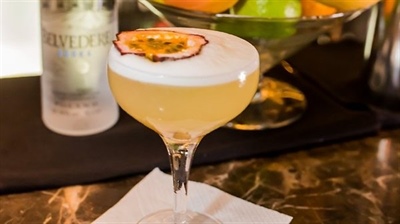 Cheer on the Socceroos with this fantastic, Australia inspired cocktail!
Come on the Socceroos!
Australia gave a valiant performance in a loss to Chile in their first game of the tournament - a 3-1 defeat flattered the winners - and they will look to halt the Dutch train that steamrolled defending champions Spain 5-1.
It will be a tough ask for Australia. The Netherlands surprised the world with their massive victory over Spain and will look to keep their momentum rolling against the Aussies.
For a nation that doesn't mind a sip, Australia is lacking a national cocktail. One Brisbane bartender, Rinni Kato of Bacchus, is looking to change that with her creation The Pavlova, what could be more Australian than that?!
What You'll Need:
30ml Belvedere Vodka
20ml Apricot Brandy
10ml Yellow Chartreuse
30ml Lemon Juice
20ml sugar syrup
Egg white
Cocktail Shaker/strainer
Passion fruit (optional)
Serve It In:
A Champagne coupe - if you've got one lying around...
Serve It With:
Well, it tastes like a lemon pavlova so maybe eat a good, Australian meal before hand and then sit back and have your Pavlova for dessert.
How to Make It:
Grab your cocktail shaker and pour in the vodka, apricot brandy, yellow chartreuse, lemon juice and sugar syrup. Crack the egg and dispose of the yolk - we don't need that.
Add the egg white to the cocktail shaker, bang on the lid and then give it a good shake. Don't add ice yet as you want the egg white to emulsify for some lovely foam action. Once it is well shaken and the foam is starting to form, whack a load of ice in the shaker and shake again.
Strain into your glass and garnish with some passion fruit or drink it straight.
The Socceroos may require you to drink more than one of these bad boys - probably to drown your sorrows but it could be to celebrate one of the biggest upsets in World Cup history - so keep the bottles handy!