And They're Off!! Melbourne Cup Cocktails!
Tuesday, October 28, 2014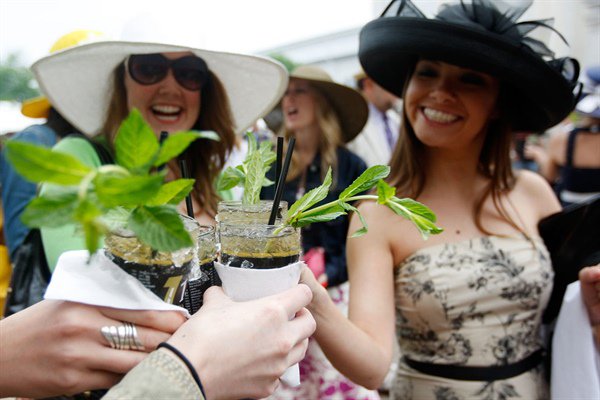 Get your bets down and sink a couple of these amazing cocktails in celebration of your Melbourne Cup winners!
It's the race that stops a nation and when we're all watching it, the nation needs a drink!
Whether you're heading to Flemington for the festivities or taking the afternoon off with your office to huddle around a TV and cheer on the donkey you pulled out of the sweep - there's no party quite like a Melbourne Cup party!
What is the perfect tipple to enjoy while you count your winnings (or mourn your losses) on race day? Well, you've come to the right place!
Mint Julep
10 Mint Leaves (Or Thereabouts)
90ml Bourbon
1 teaspoon fine sugar
Crushed Ice
This is a horse racing classic from the Stateside Kentucky Derby. The Mint Julep is synonymous with the most famous horse racing event in America and it is perfect for any thoroughbred activity the world over.
To make a julep, start with a chilled collins glass and go from there. Traditionally, the mint julep is made in a sterling silver julep cup but if you haven't got one on hand then a collins glass works well. Make sure it is chilled down as a metal cup helps keep the drink cold throughout.
This is a dry cocktail to start with so place about 5 or 6 mint leaves at the bottom of your mixer along with the sugar. Muddle the leaves and sugar with a wooden spoon or muddler until the smell of the mint is powerful and the sugar begins to dissolve. You aren't trying to completely smash the mint leaves so don't go overboard.
Add the crushed ice on top of the mint and sugar until the glass is about half filled with the ice. Pour over the bourbon and top up with another round of ice before garnishing with the extra mint leaves. Give the drink a gentle stir and that's the drink!
Long Island Iced Tea
30ml sugar syrup
15ml chilled vodka
15ml tequila
15ml white rum
15ml gin
15ml Cointreau liqueur
25ml fresh lemon juice
Chilled cola
Ice Cubes
It might be a long list of ingredients but once you've got them all, it's a quick and easy drink to make that'll really knock your socks off!
Fill a collins glass with ice and add the sugar syrup and booze in any order you fancy. This is stirred, not shaken so give the booze-y mixture a little stir before adding the lemon juice and cola and stirring again.
Serve with a wedge of lemon and a warning - a few of these before the race and you're not likely to remember the result!
Mango and Passionfruit Champagne
A couple of Mangoes
A couple of Passionfruit
A Bottle of Champagne or Sparkling Wine
Ice Cube Tray
This is an interesting twist on a cocktail as it isn't really a mixed drink - you'll see why in a minute - but it does take a little pre-meditated preparation.
Firstly, we've got to deal with the fruit! Scoop out the flesh of the mango and put it in a blender. Whizz the mango until it's a puree. Then scoop the passionfruit pulp and mix with the mango, just using a spoon - no need for the blender now.
Once you've combined the mixture, pour it into ice cube trays and let them set in freezer for a few hours or overnight.
The next day, take the cubes out of the freezer about 20 mins before you plan on serving. Put an ice cube in the bottom of a champagne flute and allow to sit for 5 or 10 minutes. Once the cube is melting a little, add the chilled champagne and serve.
If you're in the celebratory mood - and who isn't on race day?! - try some of these other amazing Champagne Cocktails!
Black Eyed Susan
45ml Vodka
15ml Elderflower Liqueur
60ml Pineapple Juice
10ml Lime Juice
20ml Orange Juice
Another American horse racing classic (can you believe American races have official cocktails!?) this oddly named concoction is the drink of choice for one jewel in America's Triple Crown - The Preakness.
In a cocktail shaker half-full with crushed ice, add all the ingredients and stir well for about 20 seconds.
Grab a chilled collins glass and add some crushed ice before straining over the mixture and garnishing with a slice of orange. This is a seriously fresh tasting cocktail that hardly anyone drinks, impress your Melbourne Cup buds with this one!
Looking for something to spend your Melbourne Cup winnings on? How about a cocktail masterclass with Sydney Bar School?! You'll learn something new (and cool) and get to drink your creations too! Book now and put those winnings to work!!