World Cup Cocktails: The Champagne Final
Saturday, July 12, 2014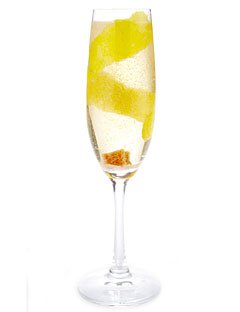 Final day is here and what better way to celebrate than with some champagne cocktails?!
Germany vs Argentina. The most played fixture in the history of World Cup Finals and we get it again in Brazil, in one of the most famous stadiums in the world in a country obsessed with football. Amazing!
5am on Monday morning, Sydney time, the game begins. Messi and the flair of Argentina against the German machine that put seven past hosts Brazil. What a game!
The only choice of spirit for a game of this magnitude is champagne - the drink of champions! Whether such a fine drink should be used in cocktails is open to debate. We aren't prissy at Sydney Bar School, if you want to jazz up a bottle of champagne then why not give these a try? And if champagne is a little rich for your blood, then get something just as sparkly but a little bit cheaper!
Before we get started, make sure you check out our previous champagne cocktail, the French 75.
In the spirit of great football chants, get that champagne on ice and ready for the big game because win or lose, we shall booze!
Mimosa
75ml Champagne
75ml Orange Juice
Kicking it off with a classic, and considering the time the final will be aired, it is the perfect morning drink.
This is as easy as pouring two ingredients in a champagne flute and then guzzling it down! Measures vary from Mimosa to Bucks Fizz so feel free to experient. Double the champagne and half the orange juice, half the orange juice and double the champagne, a dash of bitters or a teaspoon of Grand Marnier liqueur. The world is your oyster.
This is a perfect pick me up, a brunch favourite and a great hair of the dog.
Champagne Cocktail
A Sugar Cube
Angostura Bitters
Twist of Lemon
120ml Champagne
Another classic but one that is a little less well-known. The Champagne Cocktail is either an abomination or a refreshing fizz depending on what side of the fence you sit.
We like it! Firstly, put the sugar cube at the bottom of a champagne flute and chuck on a couple of dashes of bitters and allow the sugar to soak it up. Next, fill the glass with champagne and add the twist of lemon to decorate.
Some will add a spoonful of cognac on top of the champagne but if you aren't that hardcore, keep it simple and sup away!
Air Mail
30ml Light Rum
15ml Lime Juice
1 Teaspoon of Honey
15ml Champagne
This one takes a little more work than the others but it is definitely worth it. In a cocktail shaker filled with ice, add the rum, lime juice and honey and give a good shake. You want the honey to dissolve into the mix so shake for about 10 to 15 seconds.
If you want to use honey syrup instead of honey (either works fine) then add equal parts honey and hot water to a glass and stir before adding the mixture to the cocktail shaker.
Find yourself a collins glass and fill it with ice or whack it in the freezer to chill. Once it is cold, top up the ice and strain over the mixture and top with champagne.
Kir Royale
15ml Creme de Cassis
Champagne to top
Another cocktail classic, the Kir Royale is a staple of many a cocktail menu. A running theme with champagne cocktails is their simplicity and the Kir Royale is no different - two ingredients and it takes about 20 seconds to make.
Pour the creme de cassis into a champagne flute, tilt the glass on its side and pour in the champagne. No stirring or shaking required, just a simple pour. for a garnish, you can go with a twist of lemon, a maraschino cherry, a blueberry or nothing at all. It is entirely up to you.
Pop those corks and enjoy the final!!