Happy Whiskey Sour Day!
Monday, August 25, 2014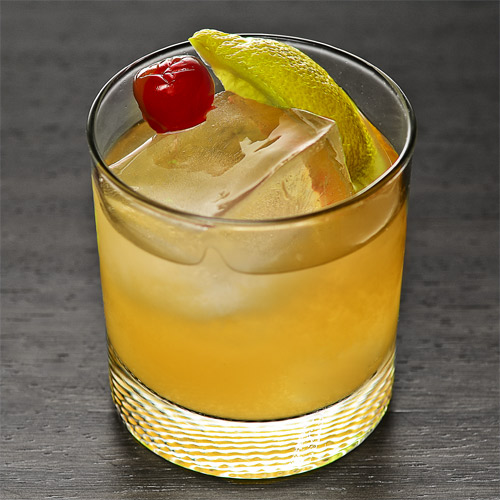 Rejoice! Transform this boring Monday with a cocktail classic!
It may be a boring Monday but get ready to celebrate - today is officially Whiskey Sour Day!!
An old-school cocktail that is so simple to make, the whiskey sour has been part of the cocktail landscape since it was first printed in a Wisconsin newspaper in 1870!
There are a multitude of variations on the traditional whiskey sour and you may have heard of many of them - whether they are on the cocktail menu of your local bar or right here on this blog. The Pisco Sour, Boston Sour, Dizzy Sour and New York Sour - to name but a few!
Today is not their day, however, today we bow at the altar of the original - the Whiskey Sour!
The Whiskey Sour isn't as celebrated as its fellow elder-statesmen of the cocktail world. The Manhattan, Martini and Old Fashioned are very much in vogue (and haven't really lost their popularity for a hundred plus years) but the Whiskey Sour doesn't carry the same weight.
It may not pack the strength of the other old-timers but what it lacks in strength, it makes up for in taste. The Whiskey Sour is a clean cocktail, one that sloshes down whatever the weather and thanks to how simple it is, can be rustled up at next to no notice!
Without further ado, here is your recipe for success on Whiskey Sour Day!
Whiskey Sour
45ml Whiskey
30ml Fresh Lemon Juice
15ml Sugar Syrup or 1 teaspoon of Fine Sugar
First, let's talk whiskey.
It really is up to you and experimentation is the key to cocktail-making excellence! Whether you want a rye or a bourbon, a Scotch, a Irish of a Canadian - take your time and try all the flavours!
Don't use your high quality bottle on a sour, a great whiskey need nothing (an ice cube at most) but for your everyday brands, a sour can make a great addition.
With the lemon juice, if you can juice fresh lemons then your drink will be better for it. If you must resort to the bottled variety, avoid the sour mix and just head to lemon juice.
Sugar syrup is easy enough to make - put the same amount of sugar and water into a pan and heat/stir until the sugar dissolves. Sugar syrup will keep if you pop it in the fridge so you make make this in advance - cool syrup works best. If you forget to plan ahead or just can't be bothered making syrup - you can use caster sugar or fine sugar instead.
In a cocktail shaker filled with ice, add all the ingredients and shake well. Strain into a chilled martini glass or an old fashioned glass with a couple of ice cubes. Garnish with a maraschino cherry and a slice of lemon and that's the lot!
Any cocktail recipe you can describe in a paragraph is ok in our book!
Don't let this Monday be the same old, weekend buzz kill! Sink a Whiskey Sour or two and set the week off with a bang!

For more cocktail recipes, take a look at our cocktail course and you could be the life of any party!